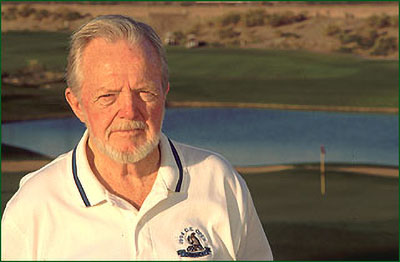 Canyon Mesa—Designed by Golf Architect Jack Snyder
"Golf was meant to be fun" – words often repeated to clients and colleagues by Jack Snyder, Golf Architect, who designed the Canyon Mesa golf course in 1985. His colleague, Architect Forrest Richardson, calls them Snyder's "mission statement and trademark". From the beginning, and still today, Canyon Mesa is a golf course meant to be fun.
Snyder designed or renovated over 60 golf courses, primarily in the US western states and Hawaii. Among those courses are famous names like Oakmont, site of many major tournaments, The Boulders in Carefree and the Phoenician in Scottsdale, Arizona, and Wailea in Hawaii. Perhaps foreshadowing his work at Canyon Mesa, in 1959 he was retained to design Mountain Shadows in Scottsdale, an 18 hole "executive" course like Canyon Mesa with eight par 3 holes on each nine.
Originally from Pennsylvania, he was raised on a golf course where his father was superintendent and was immersed in golf from an early age. Jack Snyder held a degree in Landscape Architecture from Penn State University, and was experienced in all aspects of course design and maintenance. He was known as a particularly effective designer of greens.
Also regarded as an unusually well-rounded course designer, Snyder served as a member of the Board of Directors of the American Society of Golf Course Architects for many years, some as President of the Association. At the same time, he was also a Member of the Golf Course Superintendents Association and a registered Landscape Architect. In 2002 he was inducted into the Arizona Golf Hall of Fame.
Canyon Mesa is fine example of Snyder's work, with the variety of its par 3 holes, excellent greens and, most importantly, a course to enjoy—one meant to be fun!